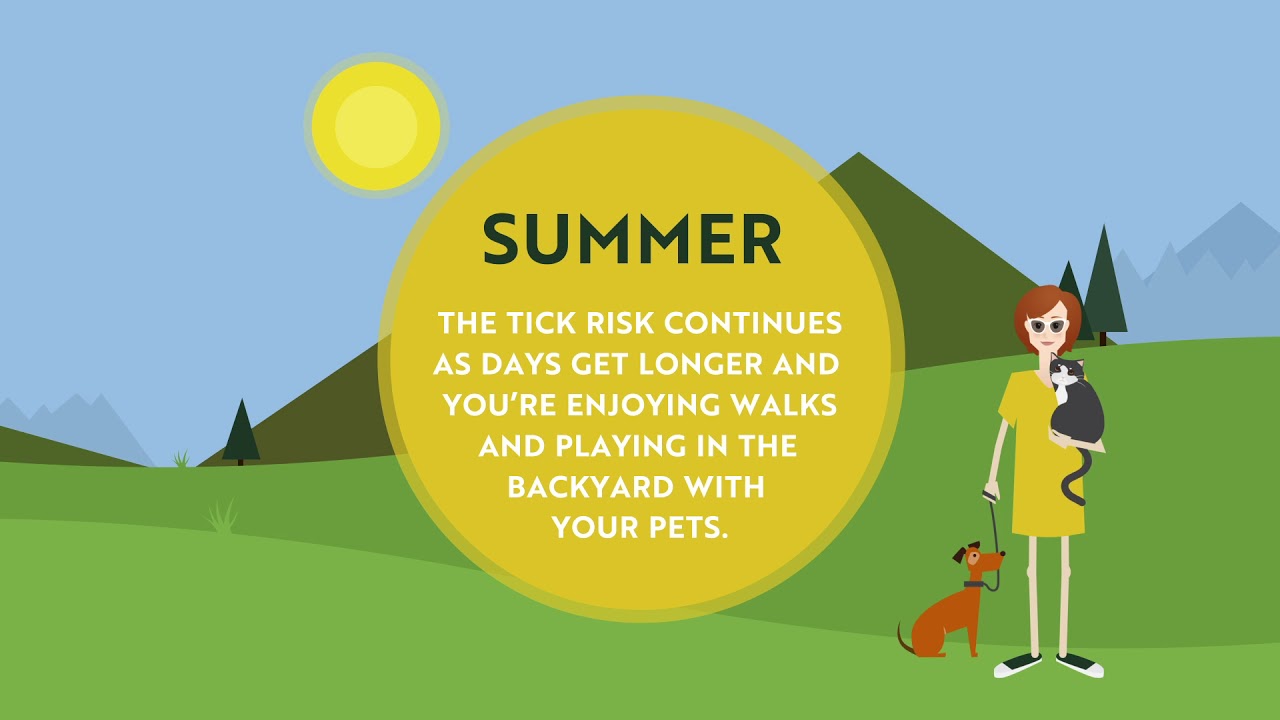 Every March, when tick activity increases in most parts of Canada, the Canadian Veterinary Medical Association (CVMA) runs a campaign called National Tick Awareness Month. They use the campaign to remind Canadians how important it is to be informed about ticks and the potential hazards ticks pose for you and your pets.
The Tick Talk website offers a series of educational videos that answer your questions and set straight some misconceptions about ticks. We've also prepared a Frequently Asked Questions page and other up-to-date information to keep you informed.
After reading through all the information, be sure to take the quiz! Don't worry, we don't share your score 😉

Is Your Pet Current On Their Flea & Tick Prevention?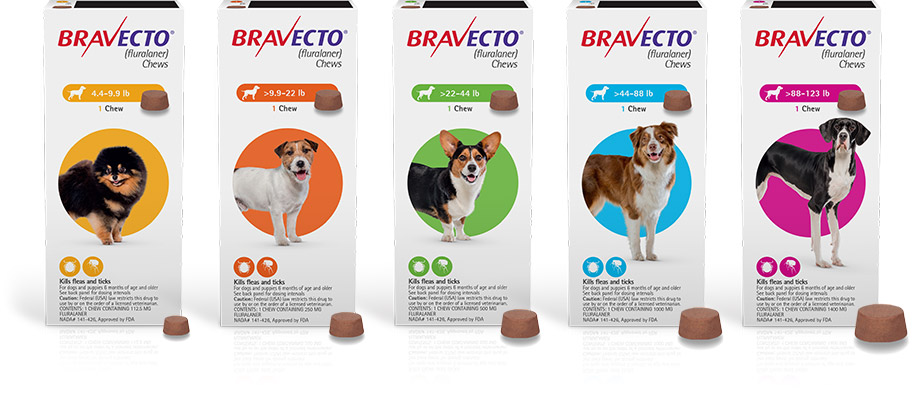 March 1st just passed, did you miss your dose? We're not into heartworm season just yet, but fleas and ticks are active. Be sure to pick up your Bravecto, or Simparica doses for your dog, or Revolution Plus or Bravecto Topical for your cat. Because no one likes uninvited guests in their home.
Did you know ticks can be active throughout the year, as soon as the temperatures reach 4°C? Spring is just around the corner. Be sure to pick up your tick prevention today!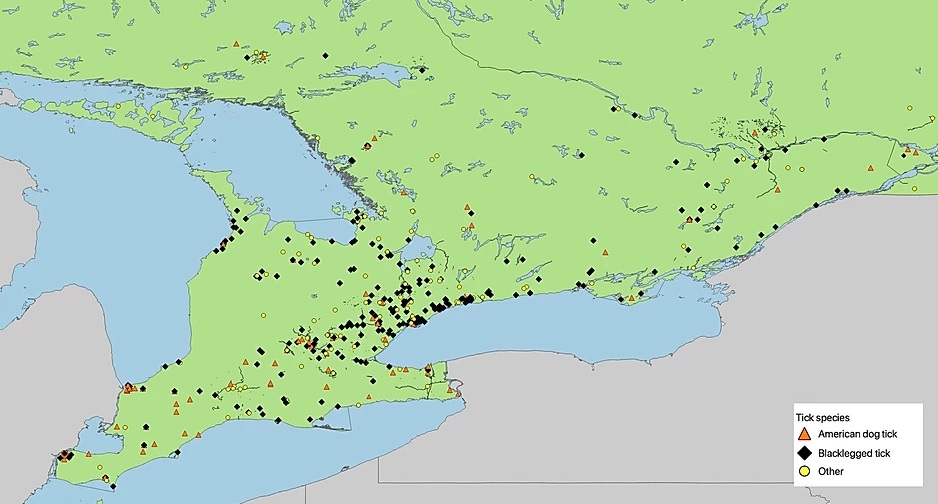 Well, 2019 was quite the tick year! Although we have been pretty quiet on the blog, it's not because it was a slow tick year, it's because we've been buried in ticks! The Canadian Pet Tick Survey has already resulted in over 1500 individual submissions totaling more than 4000 ticks. And it's still going! We hope to have some more results to share by the summer as the studying will be ongoing until the end of March. A huge thank you to all the clinics who are participants and the pet owners who have submitted ticks!
The Pet Tick Tracker had its fair share of submissions, too. Overall, we received 632 submissions from across Canada, which is up from last year's 513 submissions. The majority (501) were from Ontario. This does not mean that ticks are not found in other provinces, but rather is a reflection of where most of our followers live.
Here are the final 2019 Pet Tick Tracker maps
Share
View on the Web

"We are not testing all ticks that we get through tick tracker submissions, but we will be testing some for specific reasons not related to patient health. It's important to understand why we don't test for the sake of the patient.
For a dog (or person) to get Lyme disease, several things all have to happen:
It has to be bitten by a tick.
The tick has to be a species that carries B. burgdorferi, the bacterium that causes Lyme disease.
The tick has to actually be infected with the bacterium.
The tick has to be attached long enough to transmit the bacterium during feeding.
The bacterium has to escape the immune system and cause an infection.
We cover #1 and #2 with our tick tracking. If the tick isn't a black legged tick, then Lyme disease isn't an issue (and testing the tick for that bacterium makes no sense).
Testing doesn't change what I do to manage a canine patient. However, it can be useful from a research standpoint to let us know about infection rates, what other pathogens might be present, the strains of Borrelia that might be involved, and similar (often poorly investigated) areas).
Tick testing is available commercially but I don't recommend it because it doesn't change what I do.
If the tick was positive, I'd say "you need to do good tick prevention" and "you should be aware of Lyme disease" and "we need to consider Lyme disease if your dog develops signs that could be consistent with that disease."
If the tick was negative, I'd say "that tick was negative, but what about any others?" Then I'd say "you need to do good tick prevention" and "you should be aware of Lyme disease" and "we need to consider Lyme disease if your dog develops signs that could be consistent with that disease."
Since it's the same answer in either case, there's not a lot of use for routine testing, from my standpoint.
So, keep the tick reports coming to our tracking site at PetsandTicks.com and feel free to send any to us for identification (as described through that site). However, don't expect routine testing for Borrelia since it won't change what we recommend for your dog."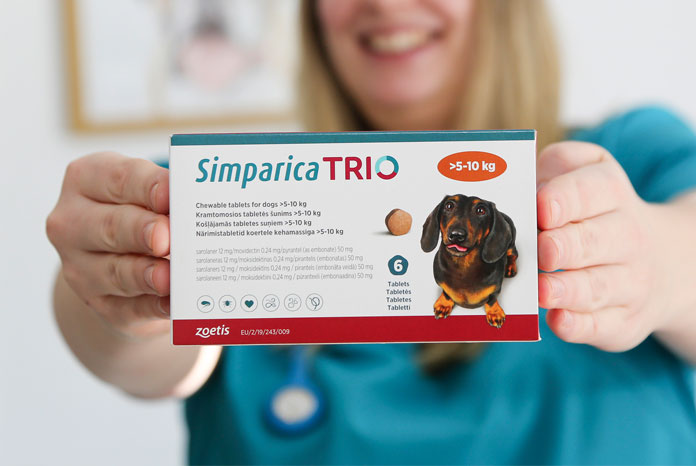 New to the Canadian veterinary market this year, Simparica Trio is sure to make your monthly flea, tick, and heartworm protection a breeze. Speak to Dr. Paterson at your next appointment to discuss whether this is the right medication for your dog.
Why Simparica Trio?
Simparica Trio makes it simple to deliver the protection every best friend deserves.
Protects dogs against heartworm disease, ticks & fleas, roundworms & hookworms
Demonstrated safe for puppies as young as 8 weeks old, weighing at least 2.8 lbs
Tasty chewable that you only need to give once a month