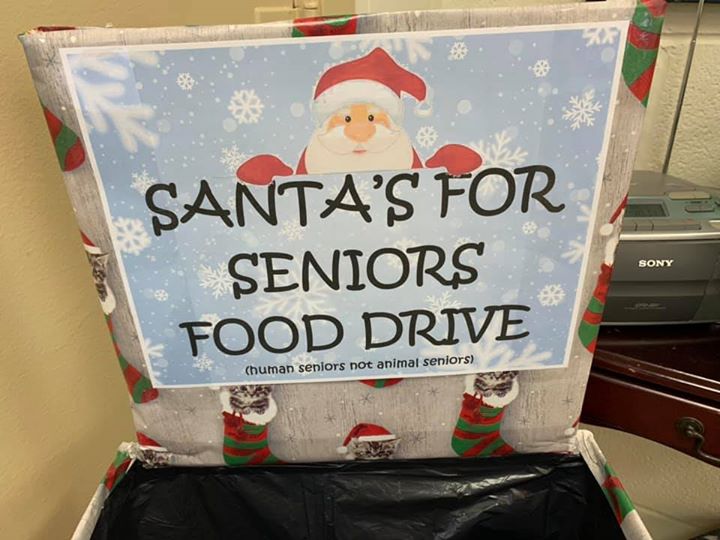 We're collecting food donations for senior (humans!) in need this holiday season. The Santa for Seniors program also reaches out to seniors to provide companionship, and holiday cheer! See the details below:
"The aim of this community initiative is to reach socially isolated seniors with lower incomes to ensure they receive a gift, a visit, and some holiday cheer! The holidays can be a lonely time for many, especially those who have no family close by, and/or health and mobility issues preventing them from getting out of their home.
Local Peel long-term care facilities, retirement homes and churches have identified the seniors in our community most in need this holiday season. Residents of Peel Region are invited to choose a gift tag from any number of sponsored trees throughout the Region. The tag includes the first name of a senior with several gift suggestions. Once the gift is purchased and wrapped, residents are invited to drop their gift off at a specified drop-off point. Volunteers will then be organizing gift delivery and visits to the seniors in December.
If you would like to take part, please email us at santasforseniors2017@gmail.com or
message us through Facebook
and we can send you a gift tag for the senior who needs your help.
Over the next several weeks, tree sponsor locations will be posted if you would prefer to stop in at a local business to pick your own tag up.
Thank you for your interest in bringing some holiday cheer to seniors in need this holiday season!
Kathy and Nicole
Santas for Seniors Organizers"
---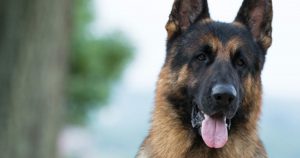 A newly adapted gastric decompression technique may help save lives of German Shepherd Dogs, and others prone to this acute life-threatening condition. Learn more about the G-cath technique at Purina Pro Club.
Signs of Gastric Dilatation-Volvulus
• Dry heaving
• White foam and yellow stringy mucus
• Tight, hard abdomen
• Pale gums
• Weak, rapid pulse
• Pacing
• Panting
• Standing with a hunched back
If your dog exhibits signs of bloat, it is important to go immediately to an emergency veterinary clinic, as a dog's condition can become critical within two hours of showing signs
---
Though across the border, this is an important reminder that even though the season is changing, it's very important to make sure your pets vaccinations are kept up to date. Many of us also travel during the holiday season. Whether home or abroad, protect your pet. Call us for an appointment today; 905-822-1644.
---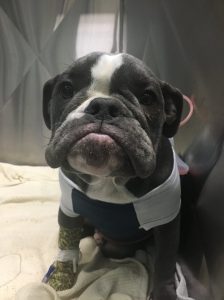 Meet Cash. This 5 month old cutie came to MOVEH because his people had noticed that he wasn't breathing quite right. After multiple diagnostic procedures, our team of ER Doctors and Specialists determined that poor Cash had a large foreign body that was penetrating both his chest and abdomen, as well as a collapsed lung. He was sent straight to surgery where they removed a stick measuring almost 11 inches long! Since there were no external puncture wounds, it looks like he somehow managed to swallow it whole, and it miraculously missed all of his other internal organs! Within 12 hours, this guy was up and about, and showing his criticalist, Dr. Kyes, some love. (He must know she's got a soft spot for bulldogs!)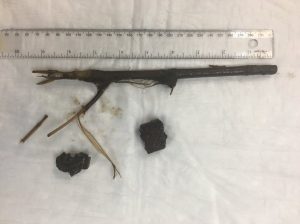 ---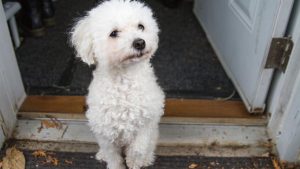 It's against Ontario law to say "no pets" in leases.
There's good news for students who love their furry friends — pets are almost definitely allowed where you're living, or looking to live. Despite what many landlords and renters believe, landlords cannot prevent tenants in Ontario from owning pets, according to Section 14 of the Residential Tenancies Act.
Leases cannot include a "no pets" provision, and if they do, that section of the lease is void. But, there is an exception: condominiums. Though this exception wouldn't affect most student renters, who live either in houses or apartments not organized as condos.
Landlords also can't charge a "pet deposit," another common occurrence, to pay for any damage pets have done. Landlords can only ask for the normal last month's rent in advance, or a key deposit that must be returned along with the key. But there are some rules protecting landlords from an animal in the unit. Landlords can evict you if they have an allergy to your pet. This also applies to harassment, which could include barking, aggression and excessive damage to the unit. But these rules can protect tenants from their landlord's pets, too.
Even if tenants lie about having a pet, or get a pet after they sign the lease, a landlord still couldn't evict them for that reason alone according to Ian Dantzer, review counsel at Community Legal Services. "The landlord may tell the tenant that no pets are allowed, or ask if they have pets, as a means of enforcing a no pet preference," said Dantzer. But it can only be a preference.
You might also be asked about pets while looking for a place — before you've actually signed a lease. There is debate over whether you have tenant rights before signing or whether landlords are allowed to deny you the place if you say you have a pet. Dantzer argued that landlords shouldn't even be asking, and that tenants don't have to answer.
Your landlord could also regulate where your pet can go to the bathroom or be walked, although Dantzer said landlords cannot restrict the right to have a pet. Along with the provincial laws, tenants must also uphold municipal bylaws. They're much more specific.
For example, London's Animal Control Bylaw says you can have no more than five cats in one home or apartment unit — if there are no dogs. The animal control bylaw also has separate rules for reptiles and birds. London actually has a by-law just for dogs called the Dog Licensing and Control Bylaw. The city requires all dogs to be registered for dog licenses; London also limits you to three dogs in one home or apartment unit. If you have a pit bull, there's a separate document for that: the Pit Bull Dog Licensing Bylaw.
Though there are rules to owning a pet in a rental, remember that animals are allowed in the homes and apartments where most students live. And if you're evicted because of your pet, you can go to Ontario's Landlord and Tenant Board, or reach out to Community Legal Services.