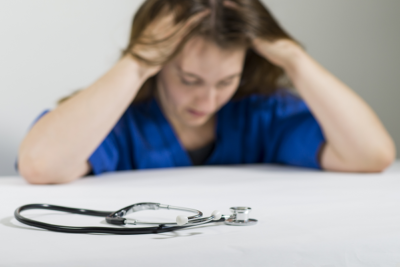 You may have recently noticed that wait times for veterinary appointments, emergency care, and prescription refills are getting longer. This is because the veterinary workforce is in crisis. While the demand for the profession is predicted to grow 17% by 2030, there aren't enough veterinarians, veterinary technicians, or support staff to keep up. If pet owners take the time to understand the challenges faced in the veterinary community, they can become empowered to support their pets' veterinary teams while also mitigating much of their own frustration.
The challenges
Veterinary professionals, on average, leave the veterinary field much earlier than most people in other lines of work. Reasons they leave include burnout, financial stress, and too often, death by suicide. In fact, the risk of death by suicide among veterinary professionals is up to five times higher than in the general public.
Some of the challenges include:
Moral Distress. This occurs when a veterinarian is prevented from doing what they know is right for the pet (e.g., a client is unable/unwilling to pay for tests or treatment or wants to continue treatment despite the pet's poor quality of life). Veterinary teams experience stressful situations several times per week, and they don't get any easier to manage throughout their careers.
Financial Strains. The level and cost of education required to become a veterinarian are comparable to doctors in human medicine. Veterinarians, on average, earn far less income than their human medicine counterparts and spend several more years paying off student loans.
Client Relations. Veterinarians and staff deal with several types of client interactions, making any given day a rollercoaster of emotions. From excited new puppy owners and those grateful for their pet's improved health to clients who are overwhelmed, impatient, and/or grief-stricken. Through all of this, veterinary staff must remain composed, compassionate, professional, and focused – which can be exhausting, to say the least.
What pet owners can do
Pet owners are certainly not expected to solve veterinary workforce challenges but there are ways to help while also ensuring their pets receive the care they need when they need it:
Schedule routine appointments (e.g., vaccinations or wellness blood work) well in advance. Waiting until just a few days before the appointment is needed, especially if you have travel, boarding, or training plans, can be stressful for everyone. If the receptionist squeezes you into an already busy schedule, the veterinarian is either staying late to do the appointment, other pets' appointments need to be rushed, or time reserved for unexpected emergencies is given up.
Similarly, request prescription refills and special orders several days before they are needed.
Make use of online services if they're available, such as appointment booking and refill requests or ordering food and supplies through a web store. This will reduce the number of phone calls received by front-end staff, allowing them to focus more time on urgent matters.
Consider getting pet insurance to alleviate the financial worry of paying for your pet's tests and treatments for unexpected illnesses or accidents.
Use your clinic's telemedicine or triage system if they have one.  This is often enough to alleviate immediate concerns about your pet until they can be seen by the veterinarian. You may find you don't need to have them seen and the problem can be managed without an extra visit.
Sometimes, things don't go as expected. If you believe a mistake was made, discuss it with the practice owner or manager before publishing your negative experience online. Problems and disagreements are often the results of miscommunication and can usually be resolved without escalation.
Show your gratitude. A positive online review or a simple "thank-you" can help your veterinary team feel appreciated, even on the hardest days.
The people you trust to care for your pet chose their line of work because they are compassionate animal lovers, just like you! Through understanding, patience, and appreciation, you can help these hardworking individuals feel valued and stay passionate about the work they love.