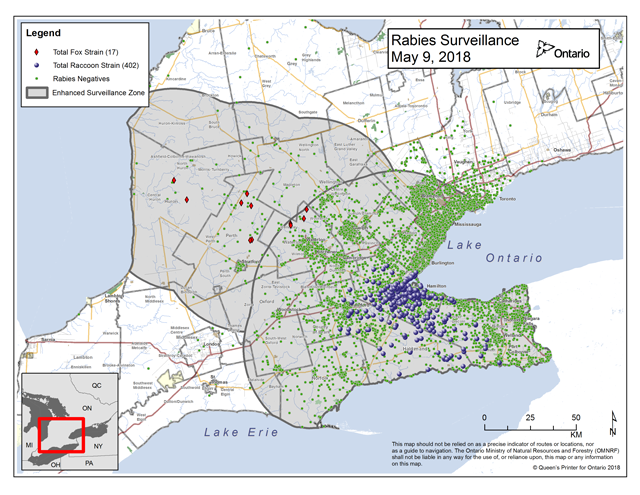 Since December 2015, 400 cases of raccoon rabies have been confirmed in Hamilton and surrounding areas, in raccoons and skunks, as well as two stray cats, one red fox and one llama. In the same time, 17 cases of fox rabies have been confirmed in Perth, Huron and Waterloo counties, including six bovines, 10 skunks and one red fox.
Veterinarians should always be the first point of contact for animal owners with concerns about their animals' health, including potential rabies exposures.
The OMAFRA rabies website includes information about rabies response in Ontario. It has a section for owners and a more detailed section for veterinarians. OMAFRA also posts the latest surveillance maps from the Ministry of Natural Resources and Forestry as they are released.
Veterinarians need to remain vigilant for cases of domestic animal exposure to potentially rabid animals. Rabies vaccination for dogs and cats is a regulatory requirement in most health units in the province and should also be considered for livestock in high-risk areas. Vaccination requirements are being updated July 1, 2018 — for details, contact the Ontario Ministry of Health and Long Term Care. If you suspect a domestic animal may have recently been exposed to a potentially rabid animal, it should be vaccinated (or revaccinated) as soon as possible if it isn't possible to have the offending animal tested.
Who to call in cases of potential rabies exposure:
1. Human exposure to a potentially rabid animal → Local Public Health (PH) Unit
2. Domestic animal exposure to a potentially rabid animal, NO human exposure → Local veterinarian
Animal owners should contact their local veterinarian as the first step for any animal health concerns.
Veterinarians can refer to the online training materials or call the OMAFRA Agricultural Information Contact Centre: 1-877-424-1300 for assistance.
3. Abnormal wildlife, NO domestic animal exposure, NO human exposure → MNRF or Canadian Wildlife Health Cooperative (CWHC)
For assistance with a live animal, contact a local animal/wildlife control agency first.
For terrestrial wildlife, once dead or confined, call the MNRF Rabies Hotline: 1.888.574.6656.
If a sick or injured bat is found, consider contacting the CWHC at 1.866.673.4781.
​If you have any questions or concerns, you can always visit or call us – we want to ensure the health and well-being of your pets.​
​
Via: OVMA Newshound
ovma@ovma.org