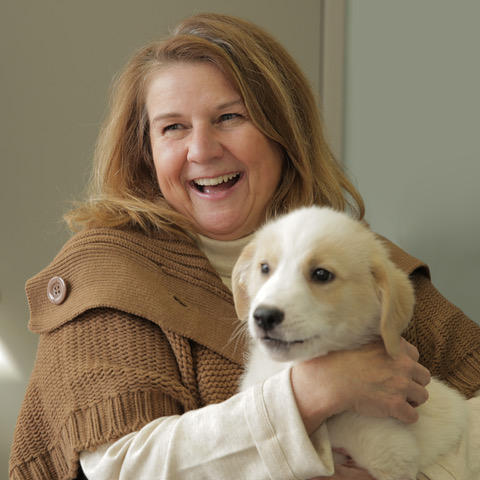 After graduating from St. Lawrence College, in Kingston, Ontario to become an Animal Care Technician, many moons ago, Cindy Cherry soon discovered her love of dog grooming. She then became a graduate of Pedigree Dog Grooming School in Lynn, Massachusetts, which at the time was only 1 of 3 recognized schools of its kind in the U.S.
She then headed back to Kingston, to open a salon of her own. When she wanted to move to Toronto, she soon realized there was no such thing in all of Canada of a mobile dog grooming service. Capitalizing on this, she soon started Cherry's Groomobile. At one time, she had three vans servicing the Toronto/Mississauga area. She then decided to sell the business and get involved in her family's businesses, such as restaurants, Major Jr. A hockey, and various charitable causes.
She is now focusing her energy towards building up a new cliental of dog owners that want her service at McCleary's. She knows the value of talking and discussing how people want their dog styled. It's important to give people options and discuss variations in what will suit the owners' and dog's lifestyle. Her philosophy is, "people know more what they don't like in having their dog groomed, then what they actually prefer". So, the importance of good dialog is a must which is her goal, when you come into McCleary's Animal Hospital.